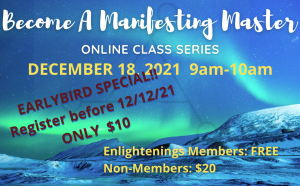 In this online only class you will learn how to become a master of manifestation. You will learn exactly how to be, the mechanics of the process and how those things move these things from the field to your energy space.
Lori will explain her manifesting examples.
ALL Active Paid Enlightenings Membership is able to attend this class for FREE. Please contact us for the Login information for the online class.
Non-members will receive the login information the day before the class in their email.
Link to the class below
Become A Manifesting Master
Questions? email: feelbetter@enlightenings.com